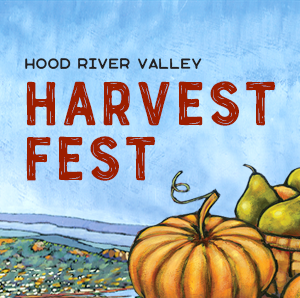 Celebrate Hood River's harvest season at the 36th annual Hood River Valley Harvest Fest on October 12-14, 2018, presented by Pacific Power and produced by the Hood River County Chamber of Commerce. This old-fashioned fall festival brings together more than 120 vendors offering local produce and food products, plus arts and crafts, wine, cider and beer tastings. Held along the scenic Hood River waterfront, this is the Columbia River Gorge's biggest celebration of the region's incredible fall bounty
Includes an expanded beer, wine, and cider tasting experience, featuring the Gorge Cider Society, Columbia Gorge Winegrowers Association and Full Sail Brewery.
Festival-goers can load up on boxes of Hood River favorites, including fresh pears, apples, pumpkins, berries and flowers, and a wide variety of local foods, from pies and jams to smoked salmon and chocolate-covered cherries. Hood River Valley Harvest Fest is also a great place to get a jump-start on holiday shopping, thanks to numerous local artisans.
Youngsters will love the kids' activity area, complete with bouncy houses, face painting, and other activities. All festival-goers ages 15 and up are invited to take part in the popular pie-eating contests on Saturday and Sunday at 2 pm.
And, just a friendly reminder, pets are not allowed at the event.