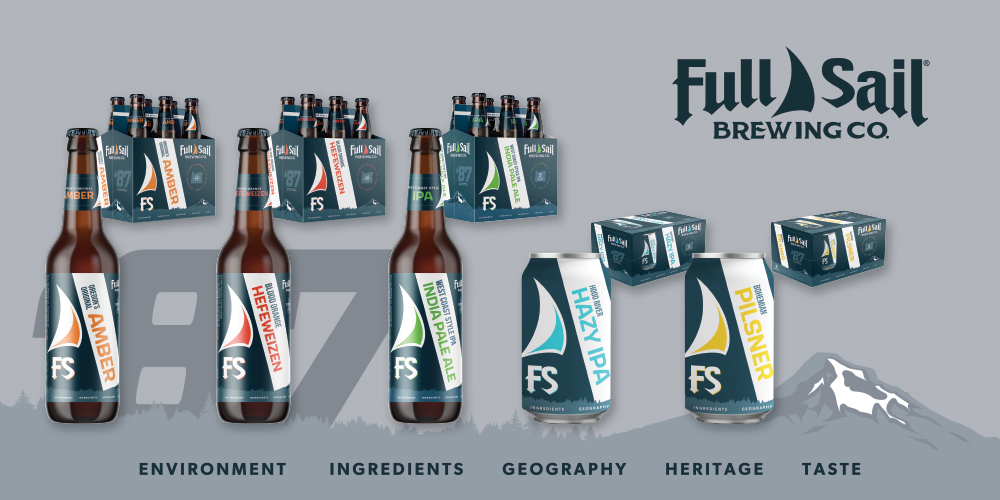 | By Full Sail
Full Sail Launches Bold New Design and Brand-New Beers
Full Sail Brewing Company, Hood River's award-winning craft brewery since 1987, has launched a new package design along with three new beers. Full Sail's West Coast Style IPA, Hood River Hazy IPA and Bohemian Pilsner round out the brewery's local, classic lineup of balanced and ridiculously tasty beers and are complemented by Pacific Northwest-based creative agency Ambient's bold, new color-blocked designs.
"At Full Sail, our philosophy has always been to do things extremely well," says Full Sail Brewing CEO Cory Comstock.  "I couldn't be more proud of the quality of our new beers, the consistency of our award-winning legacy brews, and of our new – and newly iconic – packaging design."
Ambient's redesign pays tribute to Full Sail's sense of place in the Pacific Northwest with its familiar silhouette of snowcapped Mt. Hood, treescape and iconic sail, but with a new, eye-catching blue and white color palette, clean lines and sparingly used bright punches of color.  "The design challenge was to create a fresh solution that respected the legacy of the Full Sail brand," says Steve Cross, owner of Ambient.  The design elements honor the Hood River brewery's legacy and core principles, known as the E.I.G.H.T: Environment, Ingredients, Geography, Heritage and Taste.
Environment: Full Sail is a community of people committed to brewing world-class beer sustainably, and the brewery has one of the lowest water-use to beer-production ratios in the industry. In fact, with this redesign, Full Sail has also  transitioned its cans to six-pack outer carton wraps eliminating plastic pack tech toppers.
Ingredients: Full Sail beers have always been brewed with regionally sourced ingredients, and they contain no stimulants, no added sugars, no high-fructose corn syrup, no preservatives, no fluoride and no animal products.
Geography: Hood River is a craft-brewing epicenter when it comes to ingredients, expertise, product innovation, and a damn good view of the Columbia River.
Heritage: New things come and go, but Full Sail has been a true craft-brewing pioneer since 1987.
Taste: At the end of the day, what matters most is how good the beer tastes. Full Sail strives to consistently brew complex, balanced beers with its customers in mind, and the brewery's current lineup lives up to the highest expectations.
NEW West Coast Style IPA:
Pale malt, oats, and wheat combine to create a golden base allowing Cryo Citra, Mosaic, Simcoe, and Ekuanot hops to shine. Beautiful aromas of tropical fruit, citrus, and melon are complemented by clean malt notes. This refreshing beer is high on hop aromatics yet well balanced. Available year round in 12 oz bottles and draft. ABV 7.0% IBU 70
NEW Hood River Hazy IPA:
Super juicy and drinkable, it's everything you want in this style. Two-row malt along with generous additions of oats and wheat create the golden backbone of this beer. Full Sail's hazy yeast strain then goes to work with the massive additions of Azacca, Mosaic, and Amarillo hops to create the ripe, juicy flavors that hazy lovers are looking for. Available in 12 oz 6-pk cans and draft. ABV 6.0% IBU 35
NEW Bohemian Pilsner:
Super soft Mt. Hood water is perfectly suited for brewing this classic style. This well balanced and ultra-drinkable Bohemian Pils has a light malt profile while showcasing Saaz and Saphir hops. Beautiful noble aromas up front, including white pepper and floral notes, give way to hints of biscuity grain. Available year round in 12 oz 6-pk cans and draft. ABV 5.2% IBU 25
Oregon's Original Amber:
With more than 25 gold medals, this ridiculously tasty Amber Ale is a Northwest classic and Full Sail's flagship brew. Malty sweet, medium-bodied with a reddish amber hue and a spicy floral hop finish, this is one great-tasting beer. Available year round in 12 oz bottles and draft. ABV 6.0% IBU 31
Blood Orange Hefeweizen:
A refreshing, unfiltered wheat beer with a twist of citrus, Blood Orange Hefeweizen has a medium malt body with subtle orange flavor, and a crisp wheat finish. It pours hazy in the glass with a golden hue and has a white lacy head with a pleasant hint of orange aroma. Available April to August in 12 oz bottles and draft. ABV 5.2% IBU 23
The brewery has also relaunched its Full Sail Variety 12-Pack featuring four distinct craft beers in 12 oz bottles: Amber Ale, West Coast Style IPA, Hood River Hazy IPA and Bohemian Pilsner.
About Full Sail Brewing Company
Perched on a bluff in Hood River, Oregon, overlooking the mighty Columbia River's epic wind and kite surfing and the snow-capped volcanic peaks of Mt. Hood, Full Sail is a true craft-brewing pioneer. Since 1987, Full Sail has been pouring pure Mt. Hood water, local ingredients and responsible processes into each and every pint. Full Sail's brews and sustainable practices have garnered more than 300 national and international awards, including 150 gold medals and Beverage World 's "Craft Brewer of the Year" distinction. From Full Sail Amber to Session Lager and new Hood River Hazy IPA, Full Sail consistently strives to brew complex, balanced and ridiculously tasty beers. Learn more at www.fullsailbrewing.com.
Categories

Archive

Be Social