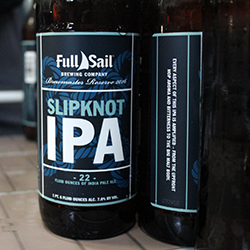 | By Full Sail
Full Sail Revives Small-Batch, Brewmaster Reserve Slipknot IPA
By Full Sail Brewing Company, January 12, 2016 


Just in time to lift you out of your post-holiday slump, Full Sail Brewing Company is releasing an old favorite from its Brewmaster Reserve series, Slipknot IPA. Slipknot IPA features a big Northwest hop aroma and robust bitterness balanced with a full malt body. This full-bodied IPA pours a rich golden-orange hue that glows like the late winter sun.
"Slipknot leads with aromas of citrus, pine and stone fruit," says Executive Brewmaster Jamie Emmerson. "Balanced by a clean, caramel malt body, Slipknot's multi-layered hop flavors lead to a crisp assertive finish. Slipknot is, once again, the beer for the serious hop lover."
Every aspect of this IPA is amplified – from the upfront hop aroma and bitterness to the big malt body. "Brewed originally in 2004, Slipknot makes a rare reappearance updated with new hop varieties and a dryer malt profile," says Full Sail Brewmaster Jim Kelter. "Two-Row Northwest Pale and Caramel malts provide the right amount of malt character to support a wonderfully hoppy surplus of Cascade, Mosaic and Citra hops. Extensive dry-hopping enhances the aroma and late hop flavors."
Full Sail's Brewmaster Reserve series allows the brewmasters to put their creativity, innovation and passion into small, limited-release beers. These craft brews highlight the direct connection with Full Sail's farmers, celebrate the art of barrel aging, and explore the effects of time. Over the years, Full Sail's Brewmaster Reserve series has earned 18 gold medals. Brewmaster Reserve Slipknot IPA is available in limited release in 22 oz. bottles and draft. 7.0% ABV, 80 IBUs.
About Full Sail Brewing Company
Perched on a bluff in Hood River, Oregon, overlooking the mighty Columbia River's epic wind and kite surfing and the snow-capped volcanic peaks of Mt. Hood, Full Sail is a true craft-brewing pioneer. Since 1987, Full Sail has been pouring pure Mt. Hood water, local ingredients and responsible processes into each and every pint. Full Sail's brews and sustainable practices have garnered more than 300 national and international awards, including 150 gold medals and Beverage World's "Craft Brewer of the Year" distinction. From Full Sail Amber and IPA to Session Lager and bourbon barrel-aged beers, Full Sail consistently strives to brew complex, balanced and ridiculously tasty beers.
Categories

Archive

Be Social