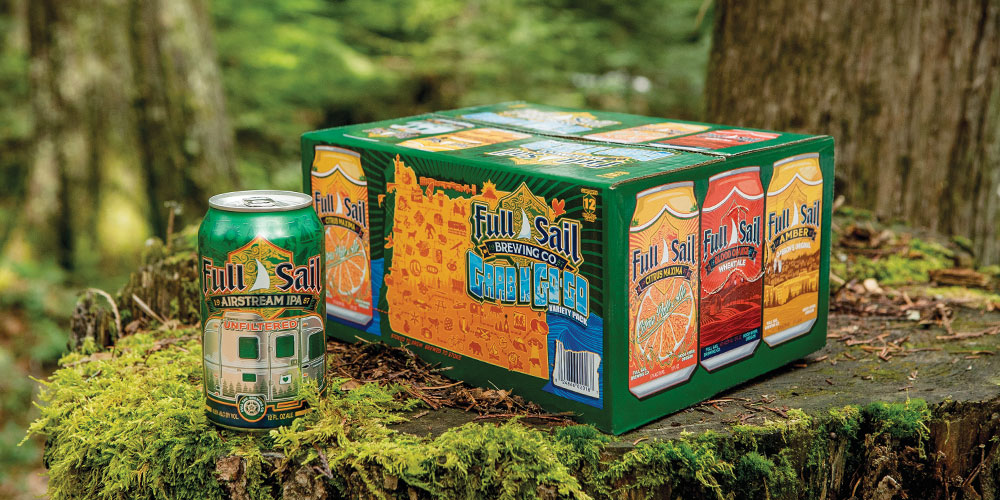 | By Full Sail
Full Sail's Grab 'n' Go-Go variety pack is brewed for adventure
On your mark, get set, Go-Go! The new Full Sail Grab 'n' Go-Go variety pack – loaded with take-anywhere, 12 oz. cans of Blood Orange Wheat, Amber Ale, Citrus Maxima Pale Ale and Airstream IPA – is the perfect variety pack to Grab 'n' Go-Go, whether you're searching for Sasquatch, hoofing it up Mt. Hood, hitching your hammock to a couple of Doug Firs, or even just cooking out in your own backyard.
"The Grab 'n' Go-Go has the best of everything, from our gold-standard Amber to our newest refreshing pale ale and balanced IPA," says Full Sail Brewmaster Greg Doss. "Our new canning line really shines here, making this variety pack the perfect thing to grab and bring along for any adventure, indoor or out."
The Full Sail Grab 'n' Go-Go variety packs contain three each of:
* Full Sail Blood Orange Wheat Ale, a refreshing wheat beer with a twist of citrus body.
* Full Sail Amber Ale, the brewery's flagship and Oregon's original.
* Full Sail Citrus Maxima, a balanced pale ale with tart and juicy tropical flavors of grapefruit and pomelo.
* Full Sail Airstream IPA, a balanced, unfiltered, easy-drinking, Northwest-style IPA, perfect for stargazing, campfiring, spelunking, lake-jumping, or just toasting the end of a great day with friends.
The Grab 'n' Go-Go variety 12-pack is available year round. Happy Trails!
---
Categories

Archive

Be Social