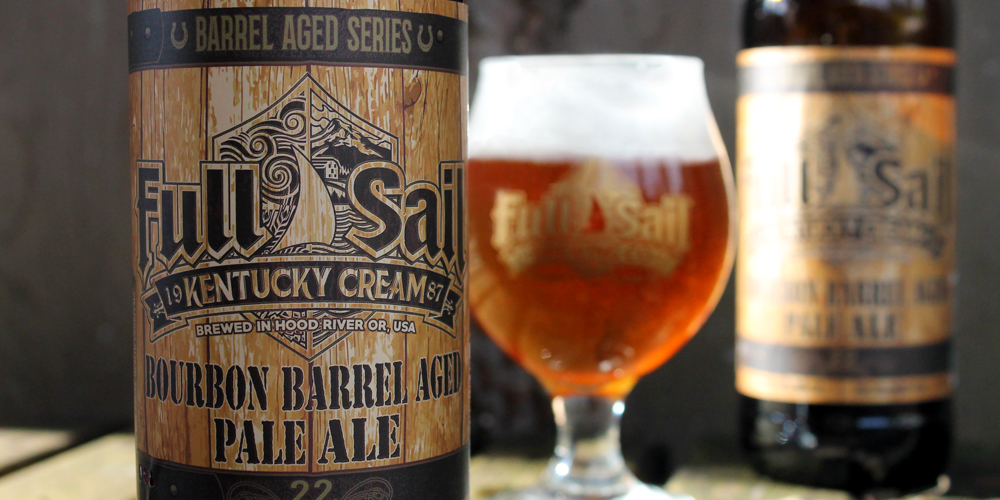 | By Full Sail
Full Sail's Kentucky Cream Showcases Classic American Bourbon Ingredients
The brewmasters at Full Sail are celebrating the flavors and ingredients of classic American bourbon with the release of their Kentucky Cream Bourbon Barrel Aged Pale Ale. Brewed in February 2016 and aged for over a year in Woodford Reserve Bourbon, Woodford Reserve Double Oaked Bourbon, and Old Forester barrels, Kentucky Cream is a medium-bodied, honey-colored pale ale that's smooth on the palate with a slightly spicy, warm finish.
"We looked to bourbon, the whiskey that made Kentucky famous, for this latest barrel aged release," says Full Sail Brewmaster Jim Kelter. "Deconstructing this American classic, the grains most often used for bourbon (in this case corn, barley, and rye) were incorporated into a pale ale, racked post-ferment into bourbon barrels, and left to rest for one year." The result is Kentucky Cream Bourbon Barrel Aged Pale Ale, with aromas of ripe cherries, vanilla and tobacco leaf and oak that lead to flavors of caramel, honey and dried fruit.
Wood barrel aging is an art form. When done right, it's a wonderful thing. Full Sail brewers honor the barrel aging tradition by pouring creativity, innovation and passion into small, limited-release beers. Full Sail's Brewmaster Reserve series highlights the direct connection with farmers, celebrates the art of barrel aging and explores the effects of time. Full Sail's bourbon beers, carefully aged in bourbon casks, tempt patience and grow smoother and even more interesting with time. They cellar well, so store a few bottles in a dark, cool place and be patient, and you will be rewarded for your effort and restraint.
This special beer is brewed and racked in small batches, and is only available in limited quantities. Kentucky Cream Bourbon Barrel Aged Pale Ale is available this May just in time for American Craft Beer Week (May 15 – 21) in limited release in 22 oz. bottles and draft. 10% ABV, 40 IBUs.
---
Categories

Archive

Be Social