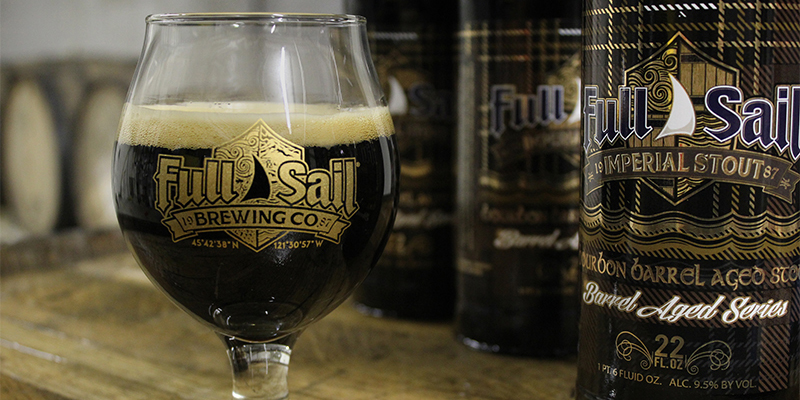 | By Full Sail
Full Sail's Latest Imperial Stout Highlights the Art of Barrel Aging
Our brewmasters have opened the bourbon casks and released this year's Bourbon Barrel Aged Imperial Stout, a deep and complex brew that is black as night with a strong roasted malt character and full body. Brewed in November 2015, this stout was carefully aged in Wild Turkey bourbon casks from Kentucky until the robust character of the stout picked up the perfect amount of wood, bourbon and oak flavors, resulting in an elegantly sophisticated beer.
"The annual release of our barrel aged beers is a celebration of the best of American beer and American bourbon," says Full Sail Executive Brewmaster Jamie Emmerson. "Barrel aging beers has been a Full Sail tradition since 1998 when we joyfully discovered what happens when you pair vintage barrels, dedication, and patience." Though barrel aging has become popularized in the years since, Imperial Stout has the advantage of Full Sail brewmasters' consistent experience, expertise and innovation.
Bourbon Barrel Aged Imperial Stout's extended aging presents hints of vanilla and oak. "It cellars well, so if you store a few bottles in a dark, cool place and be patient, you will be rewarded for your effort and restraint," says Full Sail Brewmaster Jim Kelter.
Always highly anticipated by beer lovers, Bourbon Barrel Aged Imperial Stouts from Full Sail have received numerous accolades over the years, including gold and silver medals, five star ratings, and a bounty of happy customers. Food pairings for Bourbon Barrel Aged Imperial Stout include steak, braised meat and short ribs, Cascadia Creamery's Glacier Blue or Stilton cheeses, and chocolate and desserts of all kinds, especially vanilla ice cream, pear crisp or cheesecake.
Wood barrel aging is an art form. When done right, it's a wonderful thing. Full Sail brewers honor the barrel aging tradition by pouring creativity, innovation and passion into small, limited-release beers. This special beer is brewed and racked in small batches, and is only available in limited quantities. Bourbon Barrel Aged Imperial Stout is available this September in limited release in 22 oz. bottles and draft. 9.5% ABV, 40 IBUs.
---
Categories

Archive

Be Social