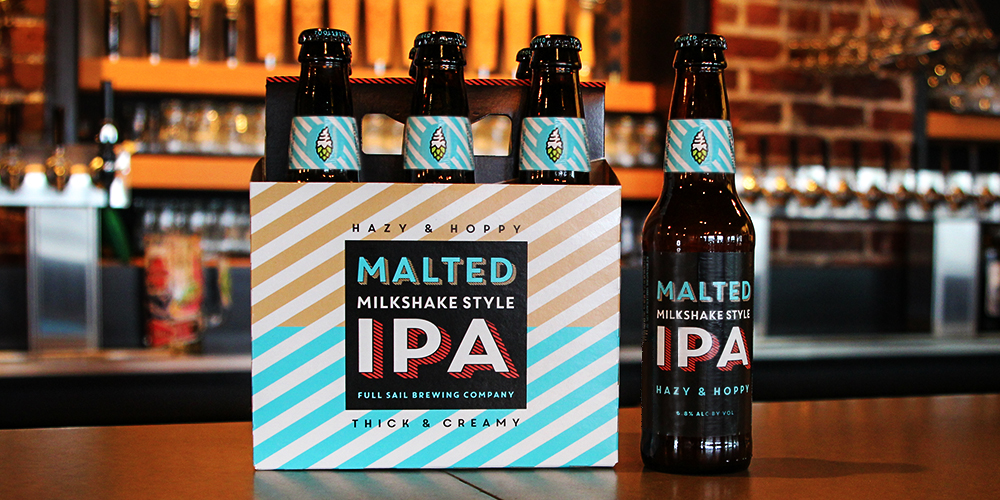 | By Full Sail
Juicy, Hazy and Hoppy, Smooth and Creamy – New Malted Milkshake-Style IPA
Soda fountains and checkered floors are retro, but Full Sail Malted Milkshake-Style IPA is anything but. Knowing it was time to shake things up on the IPA front, we have launched our brand-new, milkshake-style IPA brewed with lactose, malted barley and oats. A touch of natural vanilla is the proverbial cherry on top.
Malted Milkshake-Style IPA is a hazy and hoppy, smooth and creamy, milkshake-style IPA. "We'd been wanting to experiment with the milkshake style, an offshoot of New England Hazy IPAs," says Full Sail Brewmaster Greg Doss. "With Malted Milkshake, we really nailed it. It's unfiltered, not bitter, and there's tons of aroma packed into a full-bodied, creamy IPA."
The popularity of milkshake-style IPAs has been growing exponentially and Full Sail was confident its master brewers could add to the category in an original way. Nonfermentable lactose (milk sugars) provide a full-bodied, smooth creaminess while the yeast strain creates a hazy, fruit-forward beer. Big juicy flavor and big juicy hops stand out in new Malted Milkshake-Style IPA brewed with Ekuanot, Denali, Comet, Citra, and Cascade hops, and 2-Row Pale, Wheat, and Oats.
Full Sail is known for brewing balanced and ridiculously tasty beer, and new Malted Milkshake-Style IPA is no exception. It's a hazy, fruit-forward IPA with notes of sweetness from lactose and a hint of vanilla. Full Sail Malted Milkshake-Style IPA is available now in 6-pack bottles, in the Full Sail Trophy Case and on draft. 6.8% ABV, 40 IBUs.
---
Categories

Archive

Be Social