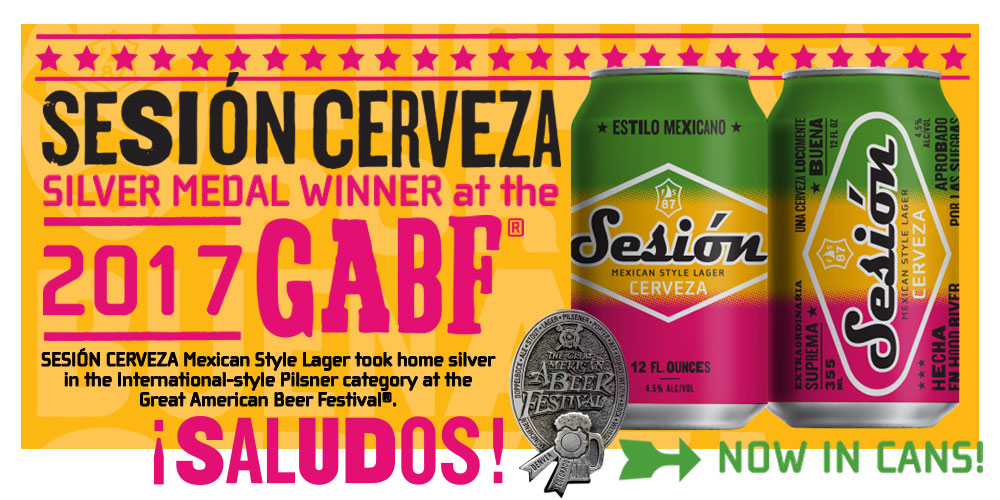 | By Full Sail
Sesión is Pure Gold in a Can and Pure Silver at the GABF®
We are happy to announce that Sesiόn Cerveza Mexican Style Lager – brewed for a hot day, a hot date, and anything in between – is now available in 12 oz. cans.
Sesiόn Cerveza recently brought home gold from the 2017 U.S. Open Beer Championship and silver in the international-style pilsner category from the ultra-competitive 2017 Great American Beer Festival.® "We've seen great success with Sesiόn and now we're excited to launch it in 12 oz. cans," says Full Sail Brewmaster Jim Kelter. "There's high demand these days for quality craft beer in cans, and we're happy to meet that need."
Full Sail launched Sesiόn Cerveza last spring to broad acclaim. The only thing missing was the ability to take it to places glass bottles just shouldn't go. Session is synonymous with the old-school stubby bottle. So distinctive. So beloved. We love the stubby too, that's for sure. But sometimes we want to take our Session to places where dropping it would cause instant loss and unspeakable grief. Places where bare feet are a way of life. Well, pack your bags (and your beer) for those occasions and locations where you'd love to have a Session, just not in a glass bottle, because Sesiόn Cerveza cans have arrived.
When Full Sail launched the Session brand 12 years ago, it quickly became the hottest new craft-beer brand on the market, which has since brought home more than 100 medals, including 58 golds. Session's not a micro, a macro, or an import, but in a way it's a little bit of each. You see, virtually everyone who likes beer likes Session. It's a brand that's accessible without being ordinary. Totally drinkable, but never at the expense of character. And now, award-winning Sesiόn Cerveza is available year-round in 6-packs, in 11 oz. stubby bottles, in 12 oz. aluminum cans and draft. Hecha en Hood River. Enjoyed everywhere. ¡Saludos! 4.5% ABV, 15 IBUs.
---
Categories

Archive

Be Social