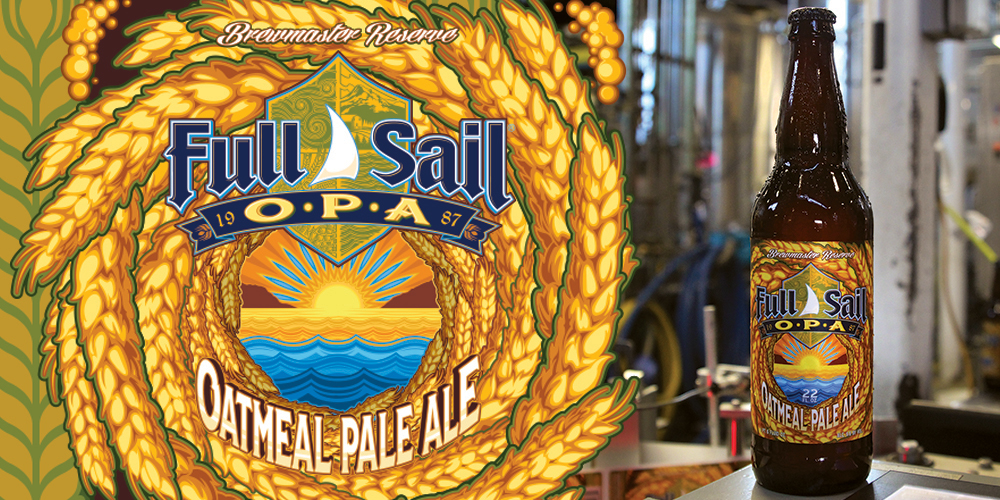 | By Full Sail
We're Down with OPA, Full Sail's Newest Brewmaster Reserve Release
Run, don't walk for Oatmeal Pale Ale, the latest in Full Sail's Brewmaster Reserve series. Available March to August, OPA is a refreshing beer, high on hop aromatics yet well balanced with modest bitterness. Silky smooth and packed with tropical fruit aromas, OPA pours a beautiful golden hue with a dense rocky head.
"OPA is a brew staff favorite," says Full Sail Brewing Supervisor Greg Doss. "The vision for this beer was to marry the silky mouthfeel provided by oats with aromas from tropical hop varietals. A healthy portion of oats along with pale and crystal malts create a balanced base which is nicely complemented by Mosaic and Simcoe hops. Modest bitterness and a smooth body make this a very drinkable beer."
Thirsty and hungry? You're in luck. OPA pairs well with a diverse range of foods. According to Full Sail Brewmaster Jim Kelter, "OPA's hop level, along with the tropical fruit finish, will pair very well with any spicy or curry dish. Its light body and quick finish will pair nicely with light dishes such as grilled whitefish or Caesar salad, but it's bold enough to stand with a cheeseburger and fries." Mild cheeses like Bulgarian feta, Swiss, Monterey, and triple crème brie would be a great accompaniment to OPA as well.
Full Sail's Brewmaster Reserve series allows the brewmasters to put their creativity, innovation and passion into small, limited-release beers. These craft brews highlight the direct connection with Full Sail's farmers, celebrate the art of barrel aging, and explore the effects of time. Over the years, Full Sail's Brewmaster Reserve series has earned 18 gold medals. Brewmaster Reserve Oatmeal Pale Ale is available March to August in 22 oz. bottles and on draft. 6.6% ABV, 32 IBUs.
---
Categories

Archive

Be Social