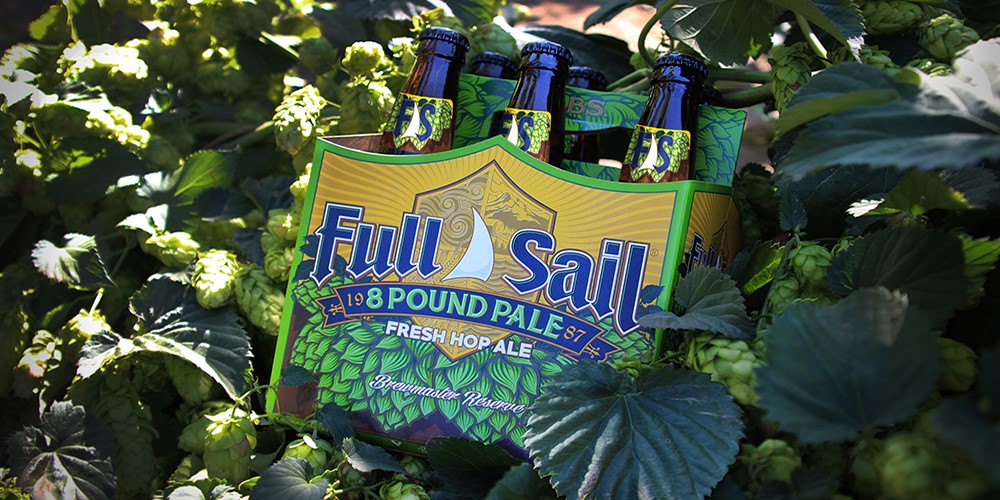 | By Full Sail
Oregon's Hop Harvest Shines in 8 Pound Pale Fresh Hop Ale
Farm to tank in three hours, 8 Pound Pale explodes with bright tropical notes
Full Sail Brewing Co. is excited to release this year's Brewmaster Reserve 8 Pound Pale Fresh Hop Ale, brewed with eight pounds of local, freshly harvested Centennial hops per barrel. Full Sail brewers Chris Davis and Greg Doss drove to B&D Farms in Saint Paul, Oregon on harvest day last month to procure fresh, wet hops from the field, immediately heading back to the brewery to work their magic on this small-batch brew that goes from farm to tank in three hours.
"This year's 8 Pound Pale Fresh Hop Ale explodes with bright tropical notes," says Full Sail brewer Greg Doss. "A blend of pale and wheat malts created a light golden base which we packed with Willamette Valley-grown Centennial Hops, only hours off the vine. Beautiful fresh-hop aromas of tropical fruit and citrus are complemented nicely with subtle malt notes. This refreshing beer is high on hop aromatics yet well balanced."
Brewmaster Reserve 8 Pound Pale is a hop lover's delight. Each fall, Full Sail brewers look forward to brewing a fresh hop beer to celebrate the hop harvest, using eight pounds of fresh hops per barrel. Each hop variety reaches peak maturity at a different time during harvest, so each year's brew is unique. Be sure to try this batch of 8 Pound Pale before it's too late!
Full Sail's Brewmaster Reserve series allows the brewmasters to put their creativity, innovation and passion into small, limited-release beers. These craft brews highlight the direct connection with Full Sail's farmers, celebrate the art of barrel aging, and explore the effects of time. Over the years, Full Sail's Brewmaster Reserve series has earned 26 gold medals. Some of our beers, like our fresh hop brews, are meant to be enjoyed just after harvest, intensely fresh from our farmers' fields. Brewed in small batches, Brewmaster Reserve 8 Pound Pale Fresh Hop Ale is available in limited quantities from late September until it's gone – in Brewmaster Reserve 6-packs, 12 oz. bottles and draft. 5.6% ABV, 54 IBUs.
---
Categories

Archive

Be Social