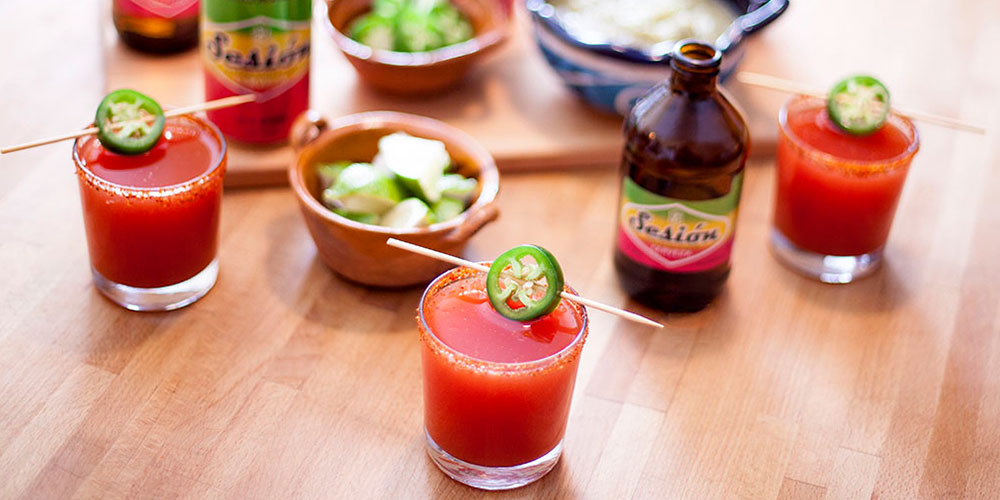 | By Full Sail
Bring on the Fiesta with Sesión Cerveza Micheladas for Cinco de Mayo
Full of flavor with just the right touch of heat, the michelada, a bright, savory, and spicy Mexican beer and lime cocktail, is perfect for Cinco de Mayo or any fiesta! Our favorite recipe is fit for a crowd. Our version has noticeable heat with a good citrus backbone – as with most recipes, play around with the spice or acid ratios to get it just the way you like it.
Sesión Cerveza Michelada Recipe (Yields 6 – 16 oz. Micheladas):
Michelada Mixture:
1/2 cup Clamato

1/2 cup roasted & pureed tomatillo

1/2 cup freshly squeezed lime juice

1 tbsp tamarind paste

1 tbsp garlic powder

1 1/2 tsp chicken bouillon

1 serrano pepper, minced with seeds

1 1/2 tsp kosher salt (Diamond Crystal is recommended)

1 1/2 tsp Piment D'Espelette
Chili Salt Mixture:
1 tbsp salt

1 tbsp sugar

1 tbsp Piment D'Espellete
1- 6 pack Sesión Cerveza 
Lime wedges for garnish
Directions:
1. Mix michelada mixture ingredients in a pitcher.

2. Create a chili salt mixture by combining equal parts salt, sugar, and piment D'espellete in a small, shallow dish.
3. Rub a lime wedge along the rim of a serving glass of your choice and dip the rim into the chili salt mixture to coat. 
4. Fill a 16 oz. glass or shaker about halfway with ice and add 2 oz of the michelada mixture. Top off with Sesión Cerveza. Pour into serving glass and garnish with a lime wedge or pepper. Serve with or without ice.
Categories

Archive

Be Social