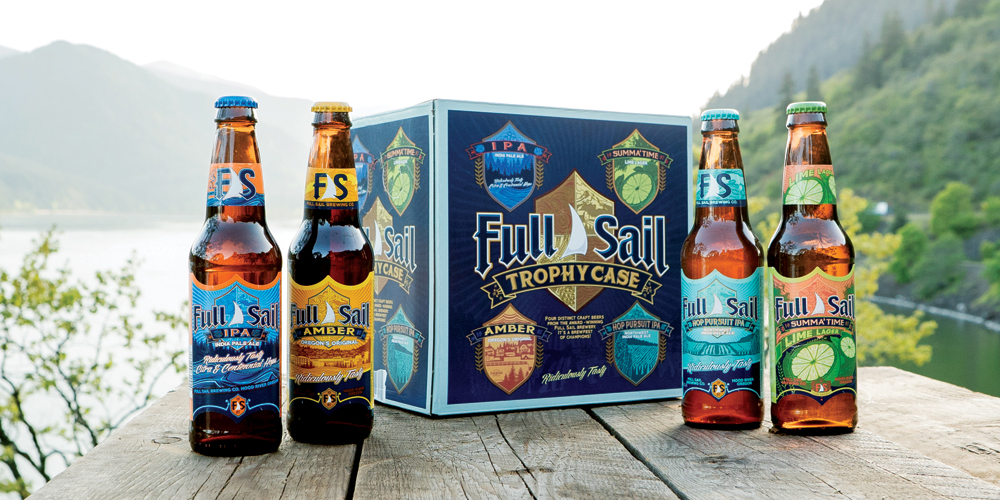 Full Sail's Trophy Case is a Half Rack of Liquid Gold
Full Sail Brewing's latest Trophy Case release is stocked with an award-winning selection perfect for summer outings. Over the years, Full Sail Amber, Hop Pursuit IPA and Full Sail IPA have been awarded over 40 gold medals. Now is your chance to be the judge. Try them all in one box, along with Summa' Time Lime Lager, our latest release in our Pub Series. Heavy metal never tasted so good.
The Full Sail Trophy Case variety packs contain three each of:
* Full Sail Amber Ale, the brewery's flagship and Oregon's original. Over the years our flagship Amber has earned many awards and accolades including over 20 gold medals and was named "World's Best Dark Beer" at the World Beer Awards.
* Full Sail Hop Pursuit IPA, balanced by a clean, caramel malt body, Hop Pursuit's multi-layered hop flavors lead to a crisp, assertive finish. Our Hop Pursuit IPA is the ultimate celebration of Oregon agriculture and Pacific Northwest Hops and was awarded the Good Food Award.
* Full Sail IPA, modern, citrusy and ridiculously tasty, our gold medal winning Full Sail IPA has floral and citrus aromas with flavors of lemon, grapefruit and a hint of spice.
* Full Sail Summa' Time Lime Lager, a light, refreshing, crushable lager with a hint of lime for enjoying wherever your summer finds you.
The Trophy Case variety 12-pack is available year round with a new rotating brew each season.
Categories

Archive

Be Social