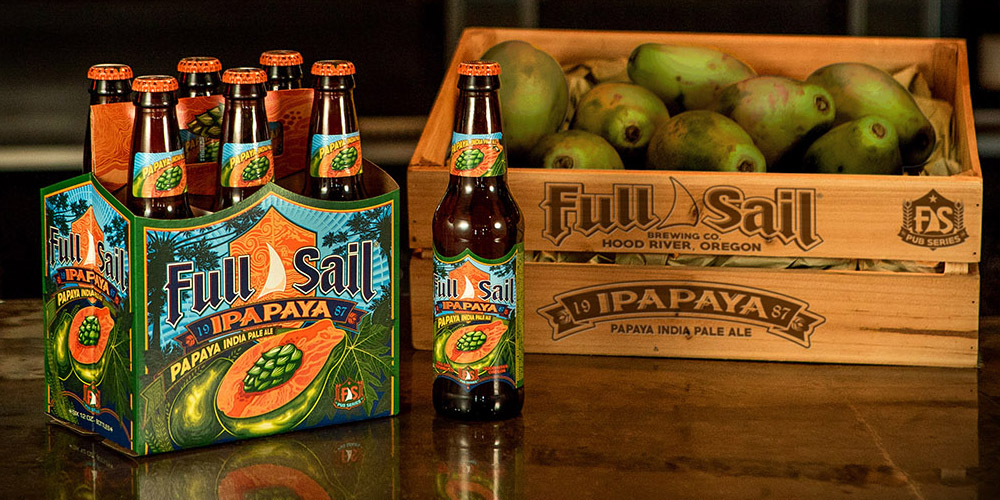 | By Full Sail
IPApaya IPA is a Vacation in a Bottle
Winter weather forecast for Hood River: unseasonably tropical. Back by popular demand, IPApaya Papaya India Pale Ale blends locally grown hops with notes of papaya creating a well-balanced, refreshing IPA with a touch of the tropics.
"We developed IPApaya to complement the tropical aromas found in Northwest hops with a subtle addition of papaya," says Greg Doss, Full Sail's Brewmaster and the brains behind IPApaya. "After testing several hop varietals for this IPA we chose to showcase Equinox (aka Ekuanot) – a hop well known for imparting unique fruity notes of melon, citrus, berry, and papaya. And since this beer was all about hops and fruit, we kept the recipe light and simple using only pale and wheat malts."
Those malts, along with healthy additions of Equinox hops, provide the perfect golden base for the addition of papaya. Tropical aromas of citrus, passion fruit, and papaya are well complemented by clean malt notes. "Vibrant tropical flavors in this IPA brighten the dark days of winter," says Doss. "It's a vacation in a bottle."
Full Sail's new IPApaya pairs well with Thai dishes such as Thai salad, pad prik king and tom kha, and Indian dishes such as curry, paneer and samosas. Light, fruit-based desserts like Thai sticky rice topped with fresh mango and salted coconut milk taste great with IPApaya, as does light blue cheese or a nicely aged triple-creme brie.
IPApaya is the latest release in Full Sail's Pub Series. Like a portal to our pub, seasonal brews only available for a limited time (get 'em while they're cold) give you a taste of the pints and people that celebrate the Pacific Northwest. IPApaya is available January to April in 6-packs, in the Full Sail Trophy Case Variety 12-pack and on draft. 6.2% ABV, 58 IBUs. From our pub to your place – cheers!
---
Categories

Archive

Be Social