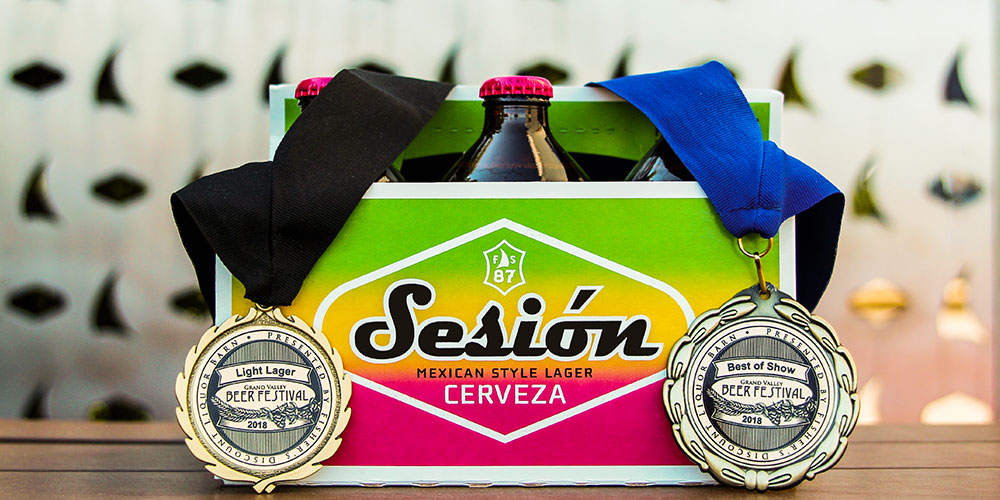 | By Full Sail
Sesión Cerveza wins Best of Show at 2018 Grand Valley Beer Festival
Sesiόn Cerveza Mexican Style Lager has been a crowd favorite since its release in the spring of 2017. So it's no surprise it brought home Best of Show and Gold at the 2018 Grand Valley Beer Festival.
"Straw gold in color, and light in body, Sesiόn Cerveza is brewed with Pilsner malt, flaked corn, and Celeia and Northern Brewer hops," says Full Sail Brewmaster Greg Doss. "The pour is pure gold in a bottle."  At 4.5% ABV, Sesión Cerveza Mexican Style Lager is a light, crisp, refreshing, loco-buena cerveza, brewed for a hot day, a hot date, and anything in between.
When Full Sail launched the Session brand 12 years ago, it quickly became the hottest new craft-beer brand on the market, which has since brought home over 100 medals, including 40 golds. Session's not a micro, a macro, or an import, but in a way it's a little bit of each. You see, virtually everyone who likes beer likes Session. It's a brand that's accessible without being ordinary. Totally drinkable, but never at the expense of character. And dios mío, Sesión Cerveza is no exception. Sesiόn Cerveza is available year-round in 6-pack cans, in 12-pack 11 oz. stubby bottles, in single-serve 19.2 oz. cans and on draft and in the summer Mashup variety pack. Hecha en Hood River. Enjoyed everywhere.
Categories

Archive

Be Social