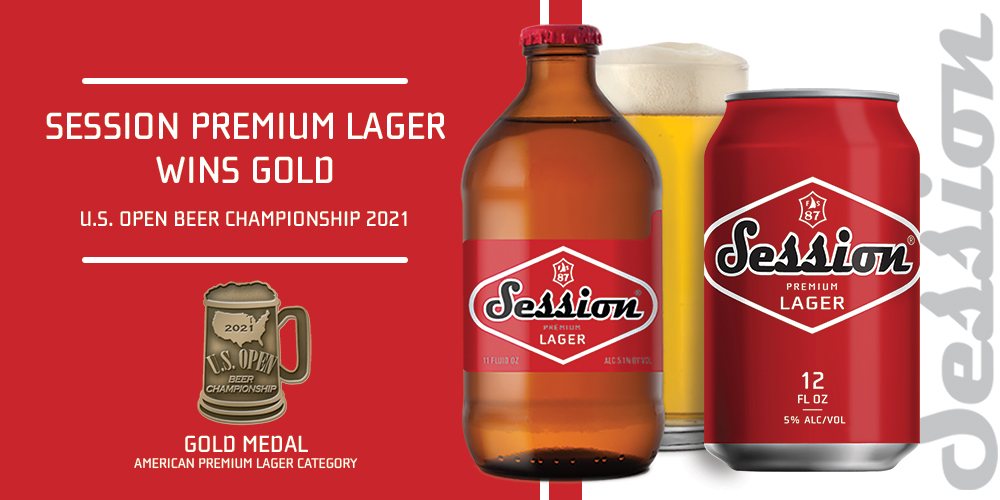 | By Full Sail
Session Premium Lager Wins Gold at the U.S. Open Beer Championship
Session Premium Lager has done it again! The Session that started it all has won its 30th gold medal at the 2021 U.S. Open Beer Championship (American Premium Lager category).
The U.S. Open Beer Championship had entries from breweries from across the globe that sent more than 8000 beers representing over 140 different styles.
Over the years our Session Premium Lager and Session series beers have brought home over 125 awards and accolades, including 67 golds. Session's not a micro, a macro, or an import, but in a way it's a little bit of each. You see, virtually everyone who likes beer likes Session. It's a brand that's accessible without being ordinary. Totally drinkable, but never at the expense of character.
Session Premium Lager is an extremely tasty import-style craft lager, like the kind of beer made back in the pre-Prohibition days— plenty of flavor that goes down clean and smooth. American and European hops offer a wonderful noble hop aroma, and the two-row barley malt and a touch of wheat malt give a pleasant, refreshing finish. Why have a beer when you could have a Session!
Available in the iconic 11 oz. stubby bottles in 6-packs and 12-packs, in 12 oz. cans in 6-packs and 18-packs, in single serve 19.2 oz. cans, in the Session Variety 12 pack and draft.
Categories

Archive

Be Social