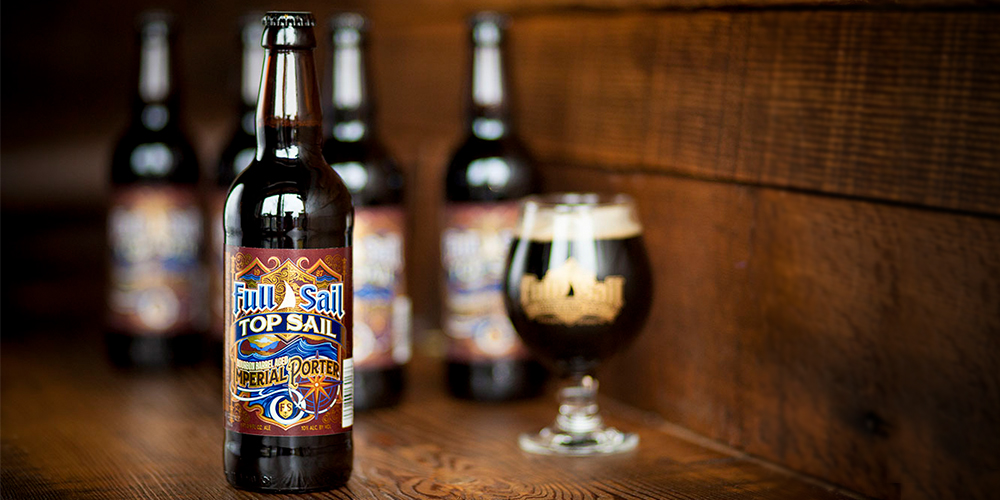 | By Full Sail
Top Sail Imperial Porter is Silky Smooth, Rich and Robust
Full Sail's legacy of barrel aging is not to be outdone, as 2017's Top Sail Bourbon Barrel Aged Imperial Porter proves. Brewed in the Imperial style and aged for months in Buffalo Trace Bourbon Barrels, Top Sail Imperial Porter is rich and robust.
Full Sail Brewmaster Greg Doss describes Top Sail as a big beer with big flavor. "It's always exciting when you're aging a beer in bourbon barrels," Doss says. "This is a sipping beer, for sharing with friends when it's cold outside. Brewing barrel aged beer is a Full Sail legacy, and bourbon barrel aged stouts and porters are some of my favorite styles."
Brewed in April 2016 with two row pale, crystal, and chocolate malts, black barley and English Target hops, Top Sail offers malt complexity with flavors of bittersweet chocolate, espresso, and caramel. Barrel aging imparts hints of vanilla, dark cherry, and oak. Top Sail Porter pours deep umber in the glass, is silky smooth on the palate and has a rich malty chocolate finish.
Wood barrel aging is an art form. When done right, it's a wonderful thing. Our barrel-aged beers have been a tradition since 1998 when we joyfully discovered what happens when you pair vintage barrels, dedication and patience. Top Sail Bourbon Barrel Aged Imperial Porter is available while it lasts in 16.9 oz. bottles and limited draft. 10% ABV, 45 IBUs.
---
Categories

Archive

Be Social